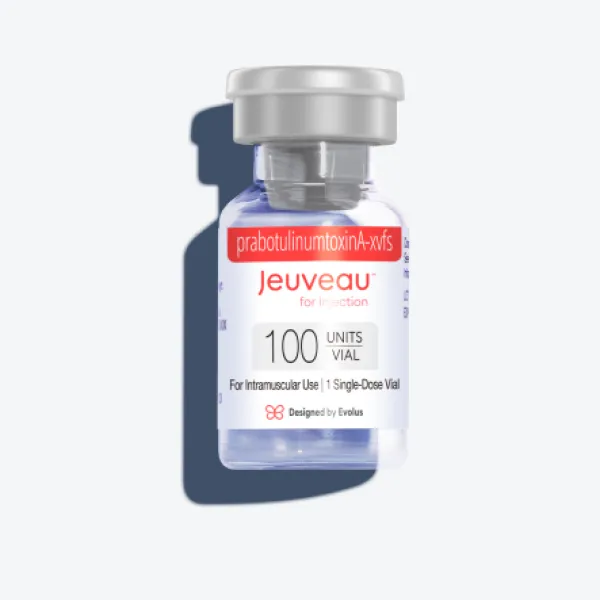 Addressing Facial Wrinkles
Jeuveau by Evolus is now FDA approved neurotoxin for the temporary improvement of moderate to severe glabellar lines in adults.
Jeuveau is an alternative to BOTOX, Dysport, or Xeomin and is a great choice if you are looking for a more youthful appearance. Jueveau can treat forehead lines, crow's feet, and wrinkles around the mouth. As we age, the muscles in our face can begin to form fine lines and deep creases around our eyebrows, significantly aging our appearance. A new facial injection, known as Jeuveau™, or Newtox can address facial wrinkles on the forehead.

Schedule An
Appointment Online
Q
Where are the benefits?
A
Reduced Frown Lines
This injectable treatment addresses frown lines that appear between the eyebrows, known as glabellar lines. These wrinkles are smoothed for softer, youthful skin.

Quick, Painless Process
Similar to other facial injectables to treat visible signs of aging, this treatment does not require anesthesia or downtime and is virtually pain-free. Injections take about 15 minutes or less to complete.

Aesthetic Technique
Other similar injectables have been around for many years with successful results. Jeuveau™ is a newer product that uses state-of-the-art filtration and ingredients to compete with other injectables options.
Q
What results can I expect?
A
Your wrinkles should improve within one week, and the effects typically last for up to six months. Individual results may vary. Sun protection and other treatments can help prolong your results.

Q
What are the similarities and differences between Jeuveau and Botox cosmetic?
A
Both injectable treatments work similarly and are derived from neurotoxins. Jeuveau™ is currently only used for treating frown lines, but usage may be expanded later.

Q
Is Jeuveau right for me?
A
Because the neuromodulator in Jeuveau has been in use for many decades, the product is considered safe for both men and women as a temporary treatment for frown lines. Candidates for Jeuveau are:
At least 18 years old

Healthy and do not have certain muscle or nerve conditions that could interfere with Jeuveau

Have had other injectable treatments like Botox with success

Have realistic expectations for what Jeuveau can do
*You may not be a good candidate if you are pregnant or breastfeeding or have an allergy to any of the ingredients in the formula. We will review your medical history to ensure the treatment is right for you.