Our Clinic
Total Body Therapy of Georgia is a private health clinic specializing in non-surgical, modern alternative therapies to help men and women regain full function and wellbeing.
For over 38 years, we've been helping Metro Atlanta men and women look and feel younger, resolve common issues, and live their best life. We strive for our patients to receive the most modern, reliable, safest, and trustworthy treatments possible.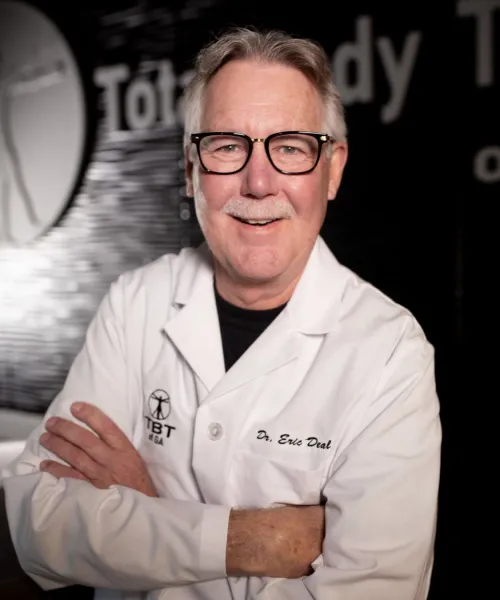 Dr. Eric Deal
Medical Director
Dr. Eric Deal, DO, is the medical director at Total Body Therapy of Georgia. He is board certified in emergency medicine and has been practicing in the Atlanta area for 38 years.
Dr. Deal received his bachelor's degree in Audiology and Speech Science at Michigan State University in 1977. He received his master's in Audiology in 1978, and then completed his medical degree at Michigan State's College of Osteopathic Medicine in 1981.
He has served as medical director for multiple emergency departments in Atlanta. He has also served as medical director for the Gwinnett, Barrow and Monroe Counties Emergency Medical Services. He was also the regional medical director for the Southeast division of Team Health, a national emergency medicine provider.
Dr. Deal has also served as Chief of Staff for Northlake Regional Medical Center in Tucker, Georgia for four years. His most honored position was being appointed as the Olympic Village Emergency Medical Director for the 1996 Atlanta Olympics.
Dr. Deal has three adult children who are all in the medical field.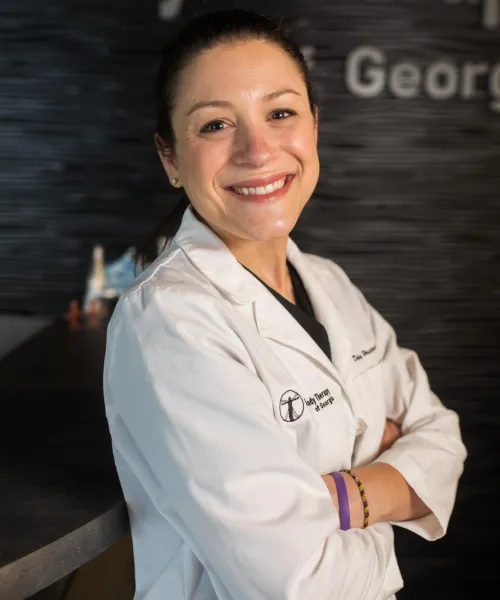 Deborah Pristach
Family Nurse Practitioner
Deborah Pristach, NP-C, is a board certified family nurse practitioner. She has been practicing in the Atlanta area as an NP for the past 13 years.
Originally from Atlanta, Deborah received her bachelors degree in family and consumer science from the University of Georgia. She then went on the receive bachelors and masters degrees in nursing from Emory University.
Deborah started her nursing career in endocrinology with a focus on bioidentical hormone replacement therapy in male and female patients. As a nurse practitioner, she expanded on that knowledge as her career shifted more specifically into women's health. It was during this time that Deborah also became trained in various aesthetic procedures including Botox, dermal fillers and laser treatments. Additionally, Deborah spent 10 years working in pain management before joining Total Body Therapy of Georgia.
She loves to see the instant corrections fillers make to enhance facial features and turn back the hands of time. Her certified specialties include neurotoxins; Botox, Xeomin, and Dysport, dermal fillers, including Sculptra, Bellafil, and PDO threads for facial contouring and aging corrections.
Deborah brings a wealth of knowledge and experience in all our practice has to offer.
She lives in Dunwoody with her husband and 3 children.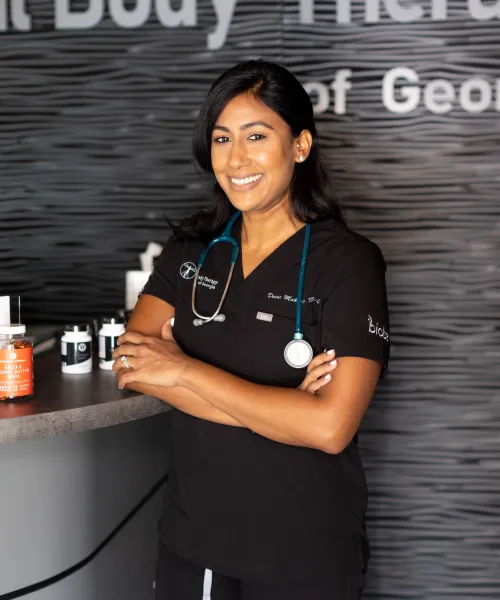 Deena Maharaj
Family Nurse Practitioner
Deena Maharaj is a board certified Family Nurse Practitioner whose background is in Emergency Medicine. She completed her Bachelor of Science in Nursing and her Master of Science at Long Island University in New York.
Deena started her nursing career in the Emergency Department of New York Presbyterian Queens hospital. She primarily worked in triage and trauma and routinely cared for the sickest patients in the emergency department. Her passion for critical thinking, fast paced care and clinically intensive work led her to start practicing as a Nurse Practitioner in the Emergency Department.
She was honored to be awarded nurse of the year in the emergency department in 2013 and values her experience in an institution recognized as one of the best regional hospitals in New York's state.
Deena takes pride in her over 10 years of experience serving diverse, complex populations. She is Trauma Certified and proficient in numerous emergency medicine procedures. She has also practiced in telemedicine and Urgent care settings, and volunteered in Cebu city, Philippines after a typhoon devastated the area.
Deena moved to Atlanta in 2017, after which she practiced emergency medicine in Roswell. She currently lives in Inman Park, with her husband and twin daughters.